Having Trouble Sleeping?

As experts in sleep, London Bed Company addresses the factors that are essential for a deep, restorative sleep - and living somewhere free from extraneous noise is vital. Many of us are unable to eliminate the outside sounds from city blare and traffic, but these 10 streets are in an advantageous position.

The assessment combined measured data from 24 Acoustics with the original London road noise map provided by noisemap.com (2003). The location study area was set to be outside the 57 dB LAeq exposure contours of Heathrow and London City Airports (LAeq is the equivalent average noise level and the favoured parameter by the UK government for assessing noise from aircraft noise).
The following 10 streets were judged to be in an advantageous position:

Barnsbury Square (N1) Islington
Burton Mews (SW1) Kensington and Chelsea
Fossil Road (SE13) Lewisham
Gilstead Road (SW6) Hammersmith and Fulham
Greenaway Gardens (NW3) Camden
Hamilton Gardens (NW8) Westminster
Johnson Close (E8) Hackney
Peckham Grove (SE1) Southwark
Sabine Road (SW11) Wandsworth
St Margaret's Crescent (SW15) Putney
See map adjacent which shows night-time
noise levels (dB Leq 8 hour - between
23:00 and 07:00) arising from road traffic.www.24acoustics.co.uk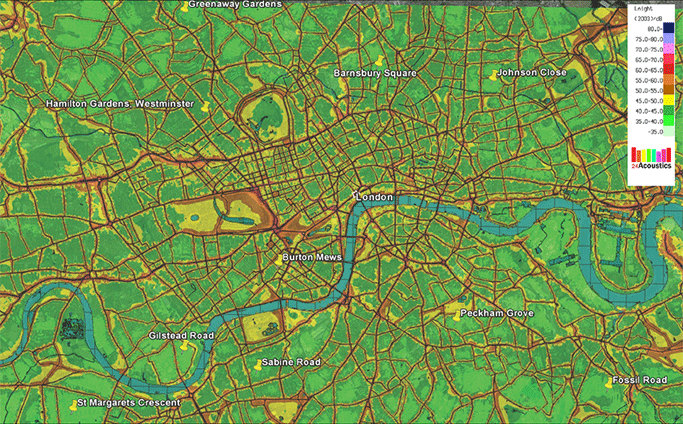 For media information contact Benjamin Webb/Georgie Griffiths at Deliberate PR
BENJAMIN

020 7221 1540
GEORGIE

07930 408224